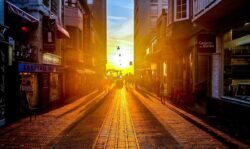 Happy New Year ~ 2023 Hope all is going well as you start your new year.
Please start slow. Give yourself time to implement the changes you want. Work out the kinks in your plans. Try it on for size, adjust where you need to, and keep it moving.
Let January be your 'easing into month'. Do build in your "ME" time, as it is most important in the fast-paced times we live.
A quote from James Clear, author of ATOMIC HABITS ~ "Every action you take is a vote for the type of person you wish to become! No single instance will transform your beliefs, but as the votes build up, so does the evidence of your new identity." Do think about that. This is YOUR new year!!!
Review your week on Saturday – how did it go and make any necessary adjustments. Update your calendar for the coming week.
Have a delightful MONTH. See you on 16 February.
Gloria-Jean Brown
​
​
Amazon
​
​
​proofingbyGJ@gmail.com {or, visit website 'proofreading' tab for more information}
3rd Thursday with GJ ~ Thursday, 19 January, 2023 … "Clean Slate"